Click on the links below to view details of the services we offer.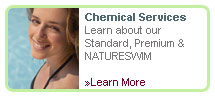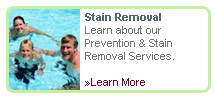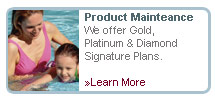 Katy Pool Stain Removal
Not only are pool stains unsightly, theyíre difficult for the average pool owner to remove. We have the expertise and equipment necessary to remove unsightly pool stains. In addition to removing the stain, itís important to assess the stainís cause. For example, a pool can become stained due to excessive levels of copper, manganese, or iron. Understanding how the stain occurred allows us to treat the underlying problem and thus prevent future stains.

Not all stains are created equal, with each stain type often requiring its own unique cure. Two broad categories of pool stains are: organic and metallic. Most organic stains eventually disappear on their own due to the chlorineís bleaching effects. Metallic stains require intervention and addition preventative measures.

Preventing metallic stains is another compelling reason to choose a professional Katy pool service rather than cleaning your pool on your own. We can assess the cause of staining, test your water source for heavy metals, and maintain appropriate water PH, alkalinity, and calcuium hardness levels to prevent staining.